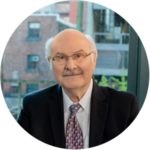 Michael Harcourt
Chairman of the Board
Mr. Harcourt is a graduate of the University of British Columbia and became Mayor of Vancouver in 1980, serving three consecutive terms until 1986. In 1986, he was elected to the British Columbia Legislature. In 1987, he became Leader of the Official Opposition.
In 1991, Mr. Harcourt was elected Premier of British Columbia - a position in which he remained until 1996. Between 1996 and 2004, Mr. Harcourt was appointed by the Prime Minister to serve as a member of the National Round Table on the Environment and the Economy where he served on the Executive Committee and Chaired the Urban Sustainability Program. He served as a federally-appointed B.C. Treaty Commissioner and is both the Honorary Chair of the International Centre for Sustainable Cities and Co-Chair of the International Panel of Advisers.
Mr. Harcourt also serves as an advisor to Translink B.C. and is an Associate Director at the Centre for Sustainability, Continuing Studies at U.B.C. He is an honorary co-chair on both the University of British Columbia's Advisory Council on Sustainability as well as the Canadian Electricity Association's Sustainable Electricity Program Advisory Panel.
Notably, in 2005, Mr. Harcourt was awarded the Woodrow Wilson Award for Public Service. In 2008, he was awarded the Alumni Achievement Award for Distinction for contributions to B.C., Canada and the world from the University of British Columbia. In 2012, he was named an Officer of the Order of Canada.
Jodi Watson
Vice-Chairman of the Board
Ms. Watson has more than 20 years of success in the retail, wholesale, digital, and direct-to-consumer industries. She most recently served as senior vice president of Petco, one of the largest pet retailers in the United States, where she was responsible for the growth of its direct-to-consumer businesses, including petco.com, unleashedbypetco.com, drsfostersmith.com, and liveaquaria.com. She also served as interim chief marketing officer, leading the creative, media, and marketing for more than 1,400 stores in the U.S. and online.
Previously she served as President, Consumer Direct, at Wolverine Worldwide where she led the transformation of a manufacturing business to a house of global direct-to-consumer lifestyle brands. She also held numerous specialty retail leadership roles at top brands, including Williams-Sonoma, Eddie Bauer, and Circuit City.
Ms. Watson has a master's degree from the Illinois Institute of Technology and a bachelor's degree from Portland State University in Oregon.
Mr. Bomford is the Chief Executive Officer and a director of True Leaf, a position he has held since the Company's inception. Mr. Bomford has three decades of pet executive experience, with extensive expertise in marketing, product development and professional manufacturing systems. Prior to founding True Leaf, Mr. Bomford was the Chief Executive Officer of Darford International, a publicly-traded pet food manufacturer which he founded in 1987. During his years with Darford, Mr. Bomford led the construction of three federally inspected production plants in the United States and Canada. Following the acquisition of Darford by Can Am Pet Treats Ltd., Mr. Bomford began focusing his attention on the medical marijuana industry and regulations in Canada as it relates to pet care and wellness. This ultimately led to Mr. Bomford founding TL Medicine, True Leaf's predecessor company, in 2013.
Mr. Toutant has more than 17 years of experience as an executive in the beverage and consumer packaged goods industries and is a recognized specialist in retailing. He most recently served as the Chief Executive Officer and President of DAVIDsTEA, Canada's largest specialty tea boutique, where he was responsible for the company's growth in Canada, the United States, and around the world. He also led the company's successful IPO to NASDAQ.
Previously he served as President of Keurig Canada, where he accelerated growth through a strategic alliance with Keurig Green Mountain in the United States. He also headed Keurig's operations in the United Kingdom. Before that, he joined TC Global through the acquisition of Van Houtte and served as the Chief Operating Officer of its Canadian business unit. He also served as President of Reno-Depot, a chain of Canadian home supply stores, and was President and Chief Executive Officer of the Société des alcools du Québec (SAQ), Quebec's liquor board.
Mr. Mardy most recently served as Executive Vice President, Chief Financial Officer, and as a Director of Tumi Holdings, Inc. ("Tumi"), a retailer of luxury luggage and travel accessories. He is credited as a key contributor to Tumi's successful 2012 IPO and subsequent merger with Samsonite, the world's largest luggage brand. Prior to joining Tumi, he served as Executive Vice President and Chief Financial Officer of Keystone Foods LLC, a global food products manufacturer. Previously, he held senior-level financial positions with Nabisco, Inc., a leading U.S. cookie and cracker manufacturer.
Mr. Mardy currently serves as a Director of top fashion retail brands Vince Holdings and Lulus.com. In the past, he served as a Director for several publicly traded companies, including DAVIDsTEA, Green Mountain Coffee Roasters, and Modus Link Global Solutions. He also previously served on the New York Stock Exchange (NYSE) Advisory Board.
Mr. Mardy is a member of the Financial Executives Institute, the National Association of Corporate Directors, The American Institute of Certified Public Accountants, and the New Jersey Society of Certified Public Accountants. He is a graduate of Princeton University and received an MBA from Rutgers University.